Get to know us
This is

how

waste brings you money!
We are a company based in Laa an der Thaya, Austria and since 2008 we are dealing with ink- and toner products/empties. Currently, we are processing about 500.000 pieces of empty cartridges per month.
Unfortunately, almost 70% of all empties still end up in the garbage. A huge garbage mountain that grows every year. Most empty ink- and toner cartridge is suitable for recycling. Any ink- or toner cartridge being refilled will have a positive impact on or environment, because the more cartridges are refilled, the less new ones have to be produced. This protects our environment and saves raw materials.
Each one of us can do something for the environment and you will even get money for it. But not only the money counts, but also your donation, which we pass on automatically for each empty piece of cartridge and of course the environmental relief for which you make a valuable contribution. Since the raw material of empty cartridges is very popular, we can offer you the highest prices for your empties. Our purchase list is attached. For defective cartridges however, we can not pay anything.
Committed & motivated
Insights from

our

sorting department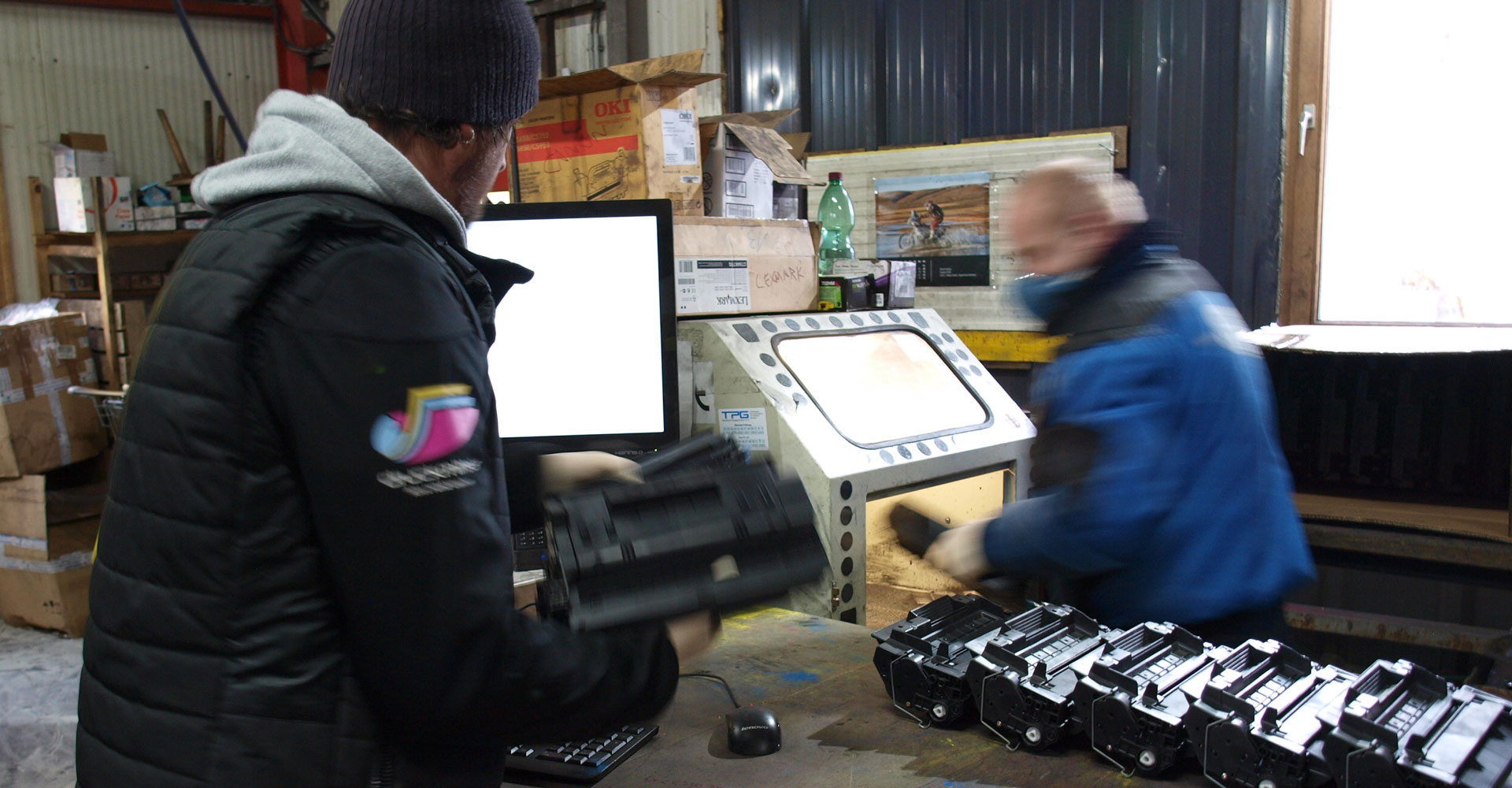 Personal & worth knowing
Our

trade fair appearances
Visit us at international trade fairs in Germany and Austria.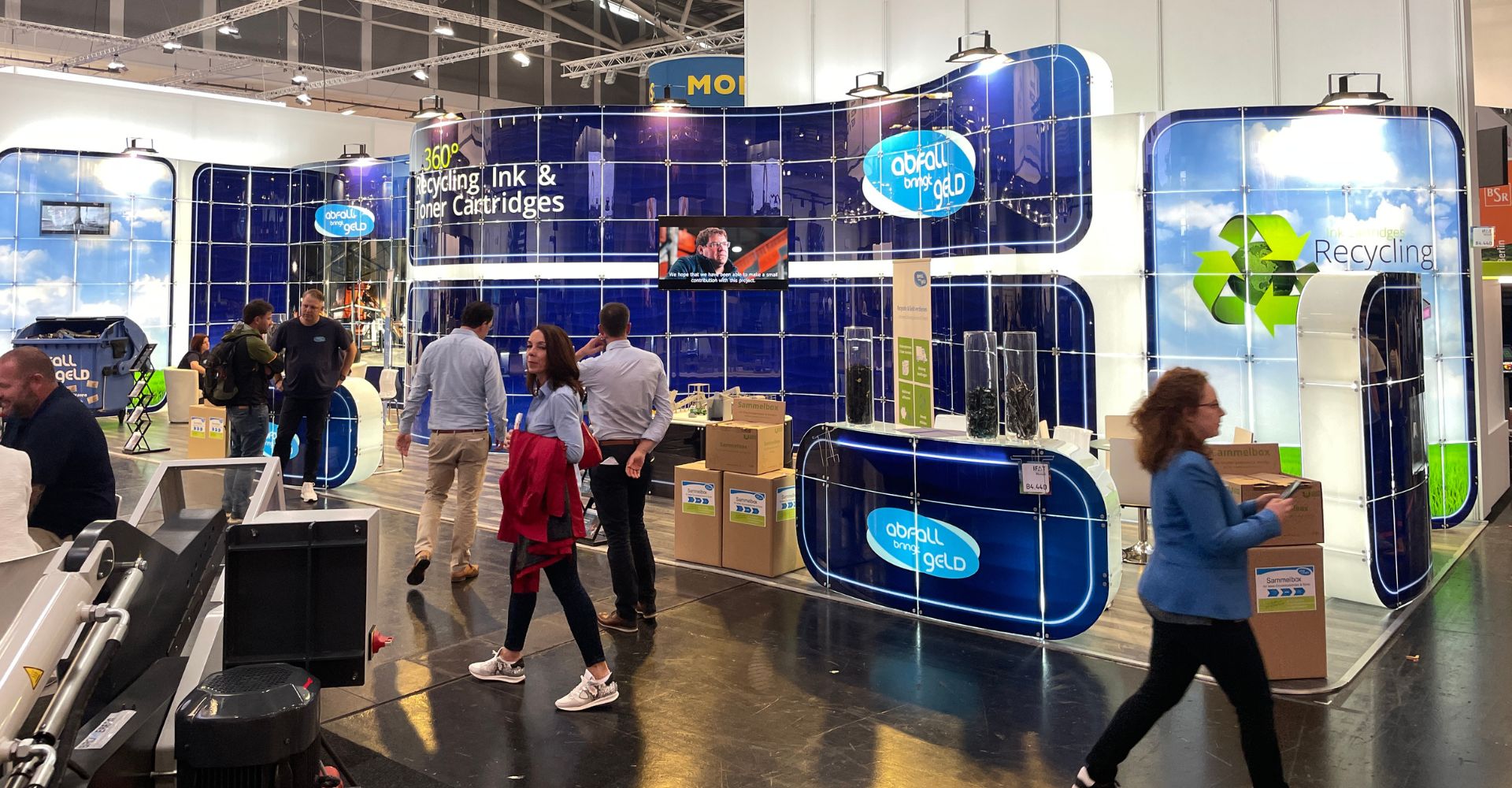 Your satisfaction is important to us
In the words of

our

costumers
"For the lower Austria mountain and nature watch, your company makes a significant contribution to capture and environmental protection. They do not only collect valuable cartridges, but also, they fill them and create jobs."

Karl LenkNÖ Berg- und Naturwacht Landesleitung, St. Pölten
"Dear Abfallbringt Geld Team, many thanks for the smooth procedure. The money was on my account very fast. Currently I am already collecting again. We will definitely recommend you."

Harald K.Laa/Thaya
",…being the only toner recycling company that automatically donates 5% to the children of Pro Juventute with every disbursement, I find this to be a wonderful thing. This is what made me send my empty ink- and toner cartridges from my printers…"

Franz U.Retz
"Thank you very much for the good advice and the collection box, even our staff takes the cartridges from home to bring them along for a good cause (Note Pro Juventute)"

Petra R.Wien
"Due to the fair offer with the pickup of the collected toner, we decided to go ahead with your company…"

Karin S.St.Pölten
"We can only recommend to all those who have the opportunity to collect ink- and toner cartridges to put this into practice, because it does something: 1. Money, 2. Donation and 3. Environmental protection…with the Denner company you are in best hands."

Roman M.Mistelbach
"Normally we are very sparing with a praise, but we are more than satisfied with the smooth procedure. Herewith we want to confirm so…"

Familie M.Gänserndorf
"By collecting the cartridges my grandchildren each receive about 100 euros every year as a gift from me. "

Susanne E.Stockerau
"Collecting and recycling while getting some money, this is one of the best ideas in our fast-moving time."

Rainer W.Firmenchef, Hollabrunn
"The smooth handling is excellent. The process – given on the hompage of Abfallbringt Geld – explained very simply and clearly. A really great service for the customer and especially the environment! Super friendly customer service, uncomplicated and reliable reimbursement of the amounts – everything is top and definitely recommendable!"

Nicole OlsonLienz, Südtirol